Hi-Tech Doors offers a comprehensive range of garage door repair and garage maintenance services throughout Brisbane, Sunshine Coast, Gold Coast and Beaudesert.
Hi-Tech Doors was created by Byron Ingram, a highly experienced technician with a thorough knowledge of a diverse range of makes and models of garage doors, motorised doors and gates.
Fast Response Time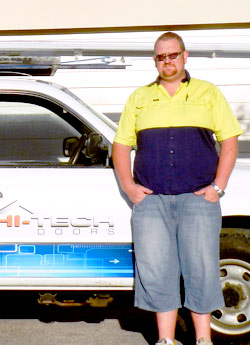 Contact Hi Tech Doors today and receive fast, expert service. We don't waste time; don't be inconvenienced by stubborn garage doors and gates any longer!
Hi Tech Doors offers a same day service for most enquires.
Emergency repair or install? Don't hesitate to call us; we always do our best to help you immediately!
Affordable Service
Hi Tech Doors do not exclusively represent any brand; we are experienced in servicing all makes and models, including warranty garage door and gate repairs. Our expert knowledge passes the savings onto you! Why spend more?
Job Efficiency – Save time and money by calling Hi Tech Doors!
Value Over Margin – The parts and products we recommend and supply are determined by the quality, performance and reliability they offer and not based on a sales margin.
Our Policy – Do it Right the First Time!
At Hi-Tech Doors, we're dedicated to getting it right, the first time. From roller door maintenance, garage door motor repair or installation, we want you to be confident in our service.
We guarantee all workmanship, including commercial garage door and gate repairs. 100% guarantee, for 3 months. Your experience is important to us!